SMS SIZE:  1.5" 2" 3"  4" Male Thread 

Temperature Rating (spec): 15°F thru 200°F; Material (spec): 304 Stainless Steel

Butterfly valve Working pressure: 0-10 Bar

100 Percent pressure hydraulic tested for reliability

The pull style handle allows you to set the valve in three different positions simply by pulling and turning
Four-position pull handle
The pull style handle allows you to set the valve in three different positions simply by pulling and turning, and it can also reduce the operating torque. The handle for manual operation mechanically lock the valve in its full open, half open and closed position.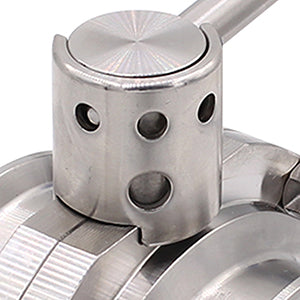 No material accumulation
By rotating the handle, the motion disk parallel to the flow of water.High water flow and low resistance.